Regular price
$18.00
Sale price
$20.50
Unit price
per
Sale
Sold out
Begin your cosmic journey with our Cosmos Blend, a high-quality specialty coffee blend inspired by the wonders of the universe explored by Carl Sagan and Neil deGrasse Tyson's "Cosmos" series on National Geographic (NatGeo).
This perfectly balanced blend includes our best-selling Estate (Castillo) from La Rochela and their naturally processed Java, sourced ethically from Colombia.
With mild complexity and excellent taste, the Cosmos Blend is a household favorite and a go-to blend for any occasion.
Savor the taste of the stars with every sip of this out-of-this-world brew from Syzygy Coffee.
Experience the perfect balance of flavor in your coffee.
Bean: 100% Arabica.
Type: Castillo & Java.
Process: Washed (Castillo) & Natural (Java).
Notes: Citrus. Green Apple. Cacao.
Roast Date: The Day You Order
Weight: 250 grams (8.8oz)
Certification: Rainforest Alliance since 2005
View full details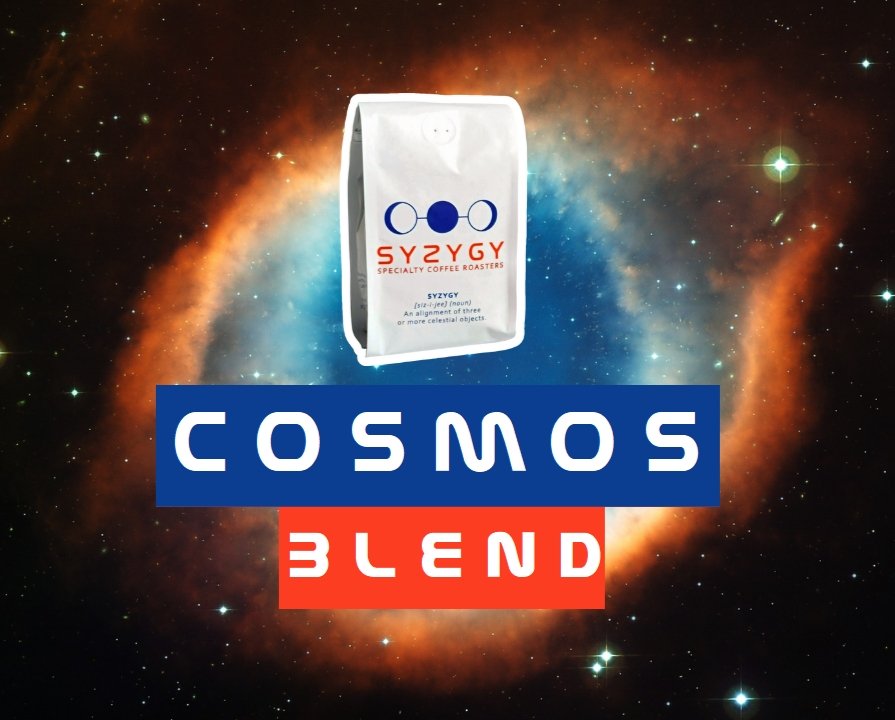 At SYZYGY, where we offer fair trade and ethically sourced coffee after working directly with farmers.
Whether you prefer hot or iced coffee, we have a variety of flavors and roasts to suit your taste buds.
Try our coffee as a cold brew for a smooth and refreshing drink that will keep you energized all day long. Experience a brew that is truly out of this world.